Your Number 1 Guide to Stay Safe During the Coronavirus Outbreak
On 31 December, 2019, cases of pneumonia of unknown origin were detected in Wuhan, China.
By 7 January, 2020, a novel coronavirus was determined as the cause by Chinese authorities and temporarily called "2019-nCoV".
Supposedly having originated in Wuhan City, the coronavirus flu outbreak has been keeping the world on high alert.
Countries like Singapore, the USA, Thailand and Japan had their first confirmed cases of the coronavirus. What can you do to stay safe and avoid catching it during this period?
Which Face Mask Prevents Flu and Coronavirus Infection, N95 or Surgical?
A surgical mask is sufficient to protect yourself from catching the flu and other viruses.
Medical staff will prefer to wear N95 masks that filter the air. This is because they work directly with sick patients, and may also wear protective gear like personal protective equipment (PPE).
What Is the Difference Between an N95 Mask and a Surgical Mask?
An N95 mask filters at least 95% of airborne particles and is effective to be used in smoky, hazy, and smoggy conditions.
In Singapore and Asia, many people wear N95 masks during the haze period when forest fires in Indonesia spread the noxious fumes to neighbouring countries.
N95 masks work well to protect against viruses and other forms of sickness. It can be harder to breathe wearing an N95 mask. A surgical mask has three layers. They are:
A white absorbent layer that absorbs moisture from your breath
An outer coloured layer that protects against external factors
A filter layer in the middle
For most of us, a surgical mask is sufficient to protect against viral infections from infected people who sneeze or cough around us.
How Do I Wear a Surgical Mask Correctly?
It's easy to wear your surgical mask properly. Here are the steps:
Wash your hands with soap or hand sanitiser before touching the mask
Remove a mask and check that there are no tears or holes on either side
The top of the mask is the one with a stiff, bendable edge that is meant to bend and contour around your nose
The front of the mask is the coloured side (usually blue or pink) while the side that faces your mouth is white
Hold the masks by the ear loops and place each loop over each ear. If it is band or strings, tie it securely over your head
Mould or pinch the stiff, bendable edge to contour around your nose
Make sure your mask covers your nose and mouth securely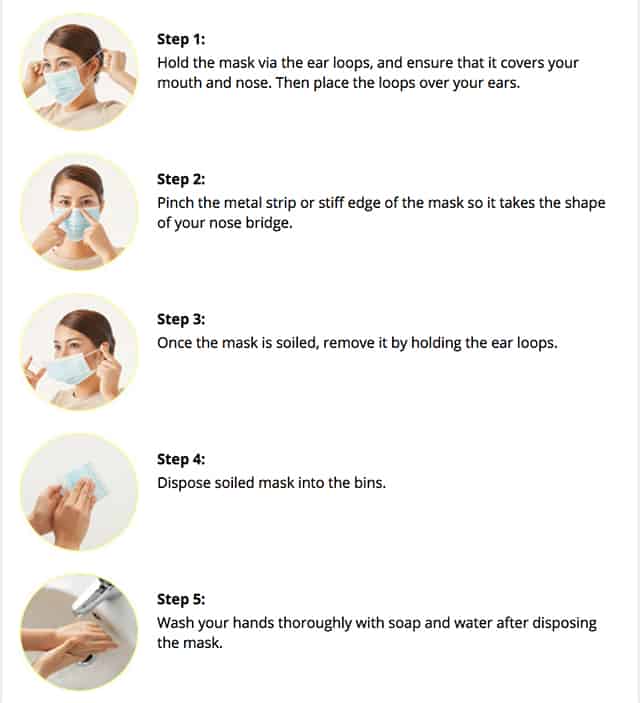 How Should I Remove My Face Mask Correctly?
Wash your hands with soap or hand sanitiser before touching the mask
Avoid touching the front of the mask and only touch the ear loops or bands
Pull the loops and pull the mask away from you. Dispose of it carefully in a rubbish bin
Wash your hands with soap and water or hand sanitiser
What Is the Wuhan Coronavirus? What Flu Virus Is This?
Firstly, the World Health Organization (WHO) states: The coronavirus is from a family of flu-like viruses that cause severe respiratory issues. There are seven known types of coronavirus.
The latest type is known as 2019-nCoV which has no official name yet but is more commonly known as the Wuhan virus.
This was named after the supposed origin city of Wuhan, China where the first victim fell sick. At first, 2019-nCoV was only transmitted via animal to people, and it was suspected that the virus spread from bats to people at a wildlife market.
Now, the Chinese authorities have noted that the "Wuhan virus" can be transmitted from human to human.
Why Is the World So Worried About the Coronavirus? Should I Be Concerned About the Flu?
When SARS happened in February 2003, it spread to dozens of countries and killed 774 people. It devastated local economies and created economic hardship for many who suffered the loss of incomes and jobs.
People stopped going out, travelling, eating out and entertainment and the economies and livelihood of many suffered.
The coronavirus has been found to be even more viral than SARS, and now that human-to-human transmission is possible, people fear that the virus will continue to mutate and spread even faster.
The good news is that the coronavirus is not as lethal as SARS and most of the victims who have died from the virus are the elderly. The youngest victim is 48 years old.
How Are China, Singapore and the WHO Handling the Coronavirus Outbreak? Should I Be Concerned?
Singapore has had its first case and has been isolating the victims.
It has set up temperature monitoring at all entry points such as airports and seaports. Checks are especially stringent for visitors from China.
China, the USA, the UK, Japan, South Korea, Hong Kong, Malaysia, Romania, Russia, most of the EU nations and major cities have set up temperature monitoring in their airports.
They have also alerted local healthcare services to be cautious and mindful of all flu and fever cases.
In China, they have locked down Wuhan City and stopped citizens from travelling in or out. The airports, railway stations, bus stations have all ceased operations.
Public transport, gathering and entertainment places have also stopped in Wuhan and other nearby Chinese cities. Even the capital of Beijing has cancelled the usual Lunar New Year Spring Festival celebrations to reduce the chances of human-to-human transmission.
All these are done to reassure people and to stop any chances of a flu outbreak.
What Are the Signs of Coronavirus Infection? How Does the Virus Spread?
The signs of infection of flu (not just the coronavirus, but all flu) include:
Cough
Fever
Breathing difficulties
Shortness of breath
Respiratory issues
Death has occurred for some elderly who have had the flu virus.
All types of flu viruses, including the coronavirus, can be transmitted via coughing, sneezing, personal contact, and faecal contamination.
The WHO has decided not to declare a public health emergency as the coronavirus is still not as lethal or transmitting fast enough to be a big public health emergency.
What Should I Do to Prevent Catching the Coronavirus?
The most common question is the preventive measures we can take to prevent catching the coronavirus.
The WHO recommends the following preventative measures for everyone:
Wash your hands often with soap and water
Avoid touching your eyes, mouth, or nose with your hands
Avoid close contact such as shaking hands or touching, with people who are unwell
Wear a surgical mask. A surgical mask is sufficient, you should not need to wear an N95 mask
Practice cough etiquette (maintain distance if have symptoms, cover coughs and sneezes with disposable tissues or clothing, and wash hands)
If you have flu-like symptoms, please wear a mask, get yourself to the nearest doctor and check for symptoms
Avoiding close contact with live or dead farm or wild animals
Avoid travelling to Chinese cities for the time being
If you feel unwell with fever, cough, or difficulty breathing, you should:
Seek medical care right away. Before you go to a doctor's office or emergency room, call ahead and tell them about your recent travel and your symptoms
Avoid contact with others and don't travel while sick
Cover your mouth and nose with a tissue or your sleeve (not your hands) when coughing or sneezing
Wash hands often with soap and water for at least 20 seconds or use an alcohol-based hand sanitizer
Health experts have also suggested to the public to rest more at home and stay indoors.
Drink lots of water, eat plenty of vegetables and exercise regularly. You can also boost your immunity systems by taking manuka honey for health and other tonics such as prebiotics for a healthy digestive and immune system.