Goli Apple Cider Vinegar Gummy ACV 240g 60 Gummies
2 gummies = 1 AVC shot
Supports healthy digestion
Helps manage weight
Helps your body detoxify
Boosts immunity
Enhances energy
Supports healthy heart
1 bottle = 60 gummies
Available on backorder
Description
Additional information
Reviews (0)
Description
Goods from USA arriving in SG in AUGUST 2020. Please like https://facebook.com/honeycity because we will announce there when goods arrive.
Taste the Apple. Not the Vinegar.
All the goodness of traditional ACV, without the bitterness of vinegar.
Goli Apple Cider Vinegar Gummy AVC
Goli gummy contains powerful antioxidants and infused with superfoods. WITH THE MOTHER. (all good ACV should be with the mother – the cloudy sentiments of enzymes, probiotics )
Gluten-Free
Vegan
Non-GMO
Unfiltered
Gelatin-Free
Apple cider vinegar offers many benefits
BENEFITS OF GOLI GUMMIES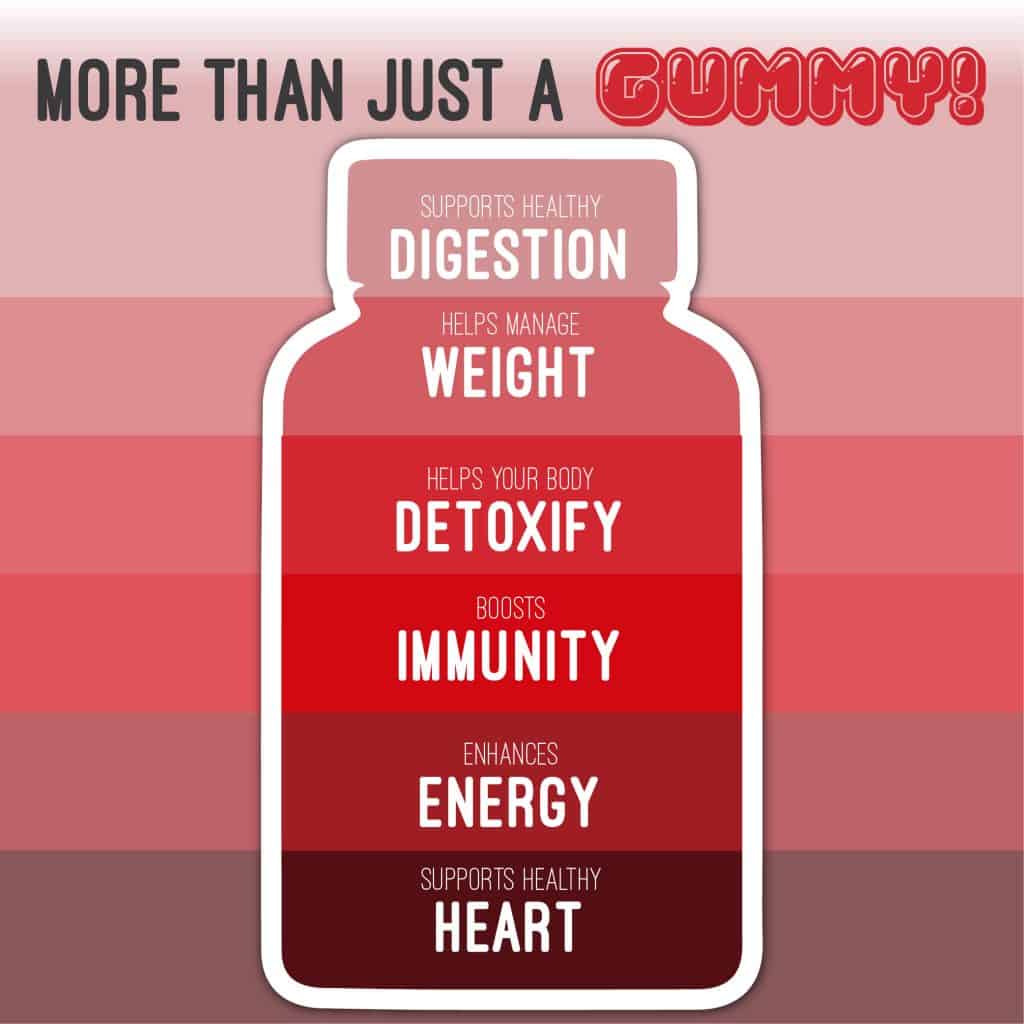 INGREDIENTS OF GOLI GUMMIES
Pomegranate
What can we say? This superfruit has a heck of a lot going for it. Pomegranates are a delicious source of important nutrients. You will find that both its peel and seeds offer a generous amount of nutrients and bioactive plant compounds. Powerful stuff indeed, called punicalagins and punicic acid.
Beetroots
Beetroots are a popular superfood for all of the fiber, vitamins and minerals they contain. Beetroots have been recognized for their beneficial properties for centuries. These beetroots help give our Goli Gummy that yummy taste everyone enjoys!
Citrus
Citric Acid has many benefits including producing energy that keeps you active and healthy.
Vitamin B12
A Vitamin B12 deficiency leads to general fatigue and tiredness. Vitamin B12 helps with energy production in the body, breaking down the food you eat into available energy.
Vitamin B9
Vitamin B9 (also referred to as folic acid) is an essential nutrient that helps support overall health and general wellbeing.
Pectin
Pectin is a fiber and a natural prebiotic that helps support a healthy gut for healthy digestion. It creates a beneficial environment that encourages gut flora to flourish.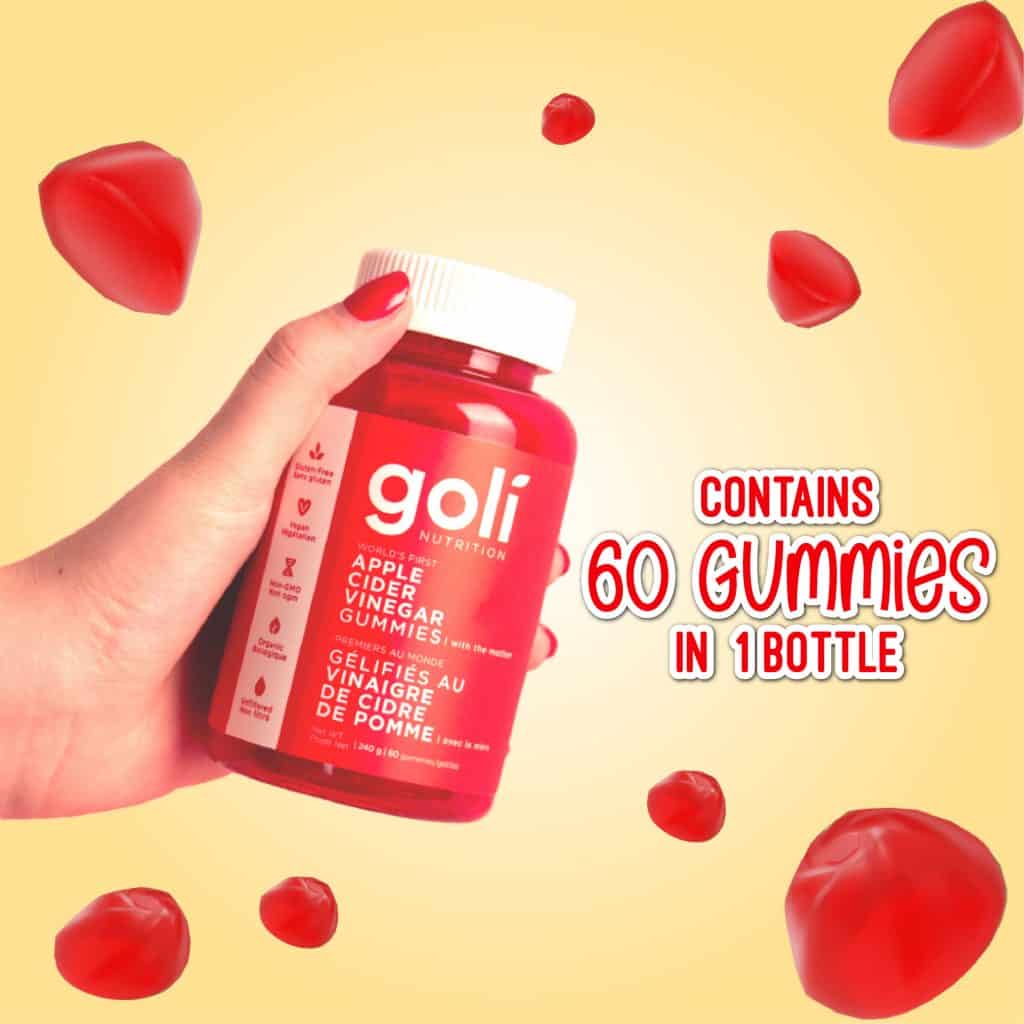 OUR GUMMIES DO NOT CONTAIN:
Yeast, wheat, milk, eggs, gluten, soy, gelatin, peanuts, shellfish, dairy, artificial sweeteners, colors from artificial sources, artificial flavors, agave, artificial preservatives, or salicylates.
OUR FULL LIST OF INGREDIENTS:
Apple Cider Vinegar, Organic Beetroot, Organic Pomegranate, Vitamin B9, Vitamin B12, Organic Tapioca Syrup, Water, Organic Cane Sugar, Pectin, Sodium Citrate, Citric Acid, Malic Acid, Natural Apple Flavors, Organic Carrot, Organic Apple, Organic Blackcurrant (for color and flavor)†.
NUTRITIONAL FACTS
Calories 15
Total Carbohydrate 3.5g
Total Sugars 1g
Apple Cider Vinegar 500mg
Organic Beetroot 40 mcg
Organic Pomegranate 40 mcg
Vitamin B9 (50% Daily Value) 200 mcg DFE
Vitamin B12 (50% Daily Value) 1.2 mcg
Recommended 1-2 gummies, 3 times daily
GOLI GUMMIES CUSTOMERS' REVIEWS
FREQUENTLY ASKED QUESTIONS
Is the Goli Gummy gluten-free? Is the Goli Gummies vegan or vegetarian?
Yes! We are proud to say that the Goli Gummy is gluten-free, vegan, and gelatin-free.
Goli gummy is vegan. It does not contain any gelatin or animal derivative ingredients, making them vegan! Unlike most gummies that contain gelatin, our Goli Gummy is made with Pectin an ingredient that comes from fruit peels.
Does it contain the mother?
Yes! The mother is the cloudy sediment full of probiotics, acetic acid, and enzymes and is the key to the host of benefits in ACV. More than 2 years of painstaking research is done on developing a formula that made them delicious while keeping the mother and all the benefits of ACV, and to do that we made sure to keep the mother in our Goli Gummy.
Is the Goli Gummy halal?
Yes, there is no animal ingredients in goli gummies and its produced in allergen-free factories hence it is halal. Goli is not certified as halal though.
Where is the Goli Gummy made?
Goli Gummy is made in USA, California, with stringent quality control. It uses select ingredients thoughtfully curated from around the world. The production is done at a state-of-the-art GMP facility that is certified organic, allergen-free and Kosher. In order to produce a premium product, our gummies are made with the purest non-GMO ingredients.
Is the Goli Gummy made in an allergen free facility?
Yes, they are made in a state-of-the-art allergen-free facility.
How many gummies do an adult take daily? How many gummies do children take daily?
We recommend 1-2 gummies, 3 times daily for adults and teenagers.
Children may take 1 gummy per day.
What are your nutrition facts?
1 gummy
Servings per container: 60
Calories per serving: 15
Total Carbohydrates: 3.5 g (1% Daily Value)
Total Sugars: 1g (2% Daily Value)
Apple Cider Vinegar: (5% Acetic Acid) 500 mg *
Organic Beetroot: 40 mcg *
Organic Pomegranate: 40 mcg *
Vitamin B9 (Folic Acid): 200 mcg DFE// 120 mcg Folic Acid (50% Daily Value)
Vitamin B12 (Cyanocobalamin): 1.2 mcg (50% Daily Value)
* Daily Value Not Established
Is there sugar in the Goli Gummy?
Goli contains only 1g of sugar that comes from organic cane sugar and unlike other gummies, there are no artificial flavors, no artificial sweeteners, and no fructose corn syrup. We wanted to create a gummy that gives you a perfect balance of apple cider vinegar and a delicious taste!
Why not make a sugar-free Goli Gummy?
A tiny amount of organic cane sugar is healthier than artificial sweeteners or alcohol. A tiny amount of organic cane sugar help masks the bitter sour taste of vinegar. These gummies also use pectin (fruit peel) instead of gelatin (animal skin and bones) that require both a sugar and an acid to set properly.
Is there any gelatin in the Goli Gummy?
No, we do not have gelatin so that the gummy is vegan and halal. We made our gummies with fruit-based Pectin (Orange peel) instead of other health gummies that process gelatin (which is made from animal skin and bones).
Why have you decided to include Vitamins B9 and B12 in your apple cider vinegar gummy?
B9 and B12 are added as a boost to improve general health and aid in normal energy production. Together with the superfood benefits of apple cider vinegar, these goli gummies are great daily healthy treats for us.
Is it okay to take these with food?
Yes, they are convenient healthy treats. You can choose to take these as snacks, without food or with food.
When is the best time to take the Goli Gummy?
Regulars enjoy having their daily treats in the morning and before meals (or even between meals).
What is the evidence behind the benefits?
Please see the Goli page dedicated to the Scientific studies behind the benefits here.
How does Goli Gummy dosage compare to traditional apple cider vinegar?
2 Goli gummies provide slightly more than the 1 tablespoon of the recommended dose of Apple Cider Vinegar. To get the health benefits daily, 2 to 6 Goli gummies will provide the dosage that has been shown effective in clinical trial studies.
ACV contains more than 94% water, a goli gummy is a concentrated form of ACV.
PURCHASE NOW!
DISCLAIMER:
The content of this website is provided for general informational purposes only and is not intended as, nor should it be considered a substitute for, professional medical advice. Do not use the information on this website for diagnosing or treating any medical or health condition. If you have or suspect you have a medical problem, promptly contact your professional healthcare provider