*MAY Special* Super Food Gift Set – Apple Cider Vinegar Manuka Honey
$26.95 – $52.95 & Free Shipping
LIMITED-TIME PROMOTION!
Bundle Gift Set Includes:
Tote Bag
Measuring Scoop
Honey Wooden Spoon OR Honeycomb Stick (your choice of spoon)
1 x Apple Cider Vinegar Raw 16oz
1 x Honey (your choice of honey)
Quick Response Customer Service
Replies within next working day on any issues you may have with your order.
Traceable Delivery
All orders are insured and shipped via a courier with tracking number to ensure that your orders are protected.
Secure Checkout
SSL Enabled Secure Checkout
Description
Looking to customize your own gift set?
Check out our:
Bundle Gift Set – Manuka Origins Sidr Honey
Kare Bundle Gift Set
Choose the honey of your choice, you may select either Black Chia Seed or White Quinoa Seed.
Free gift: Adjustable Measuring Scoop, you may choose Honeycomb Stick or Wooden Spoon for your honey.
A FREE TOTE BAG WILL BE GIVEN WHEN YOU PURCHASE THE GIFT SET!

Honey Options:
1) Comvita UMF 5+ 500g
2) Vitabeez UMF 5+ 500g 
4) Pure Origins- Wild Raw Flower Honey 500g
5) Origins Organic 500g
Dr. Bragg:
1) Apple Cider Raw 16oz
Freebies
Note: You can only choose the type of spoon you want for your honey, whereas the rest are default.


Black Chia Seed 500g
Chia Seed is an excellent source of omega-3 fatty acids, rich in antioxidants, and provides fiber, iron, and calcium. Omega-3 fatty acids help to raise HDL cholesterol, the "good" cholesterol that protects against heart attack and stroke. No wonder it is regarded as a superfood!
Chia Seeds are super high in antioxidants, basically making the impossible possible. They slow down aging symptoms that result in younger-looking skin, and healthier hair, and can even reduce the risk of cancer. Basically fountain of youth/miracle molecules.  They have an impressive amount of fiber, almost all the carbs in chia seeds are actually fiber. You will stay full longer, which will aid in keeping your gut in health in check. Omega-3s are super important as they have a wide range of benefits, from fighting depression to improving sleep and reducing the risk of heart disease.
HEALTHY CHIA SEEDS RECIPE THAT YOU CAN TRY!

White Quinoa Seed 500g
Quinoa is one of the world's most popular health foods, it is gluten-free, high in protein, and one of the few plant foods that contain sufficient amounts of all nine essential amino acids. It is also high in fiber, magnesium, B vitamins, iron, potassium, calcium, phosphorus, vitamin E, and various beneficial antioxidants. Adding quinoa to the diet can increase its overall nutritional value, and may help to reduce blood sugar levels and lower blood triglycerides. Its quality makes it a weight loss-friendly food as it is high in protein and fiber and has a relatively low glycemic index value.  White Quinoa is considered a "superfood" and has everything you are looking for in a meal, it offers high-quality nutrition and tends to cook up fluffier than the other types. It is quick-cooking, naturally gluten-free, and often used as an alternative to rice or grains.
 HEALTHY WHITE QUINOA SEEDS RECIPES THAT YOU CAN TRY!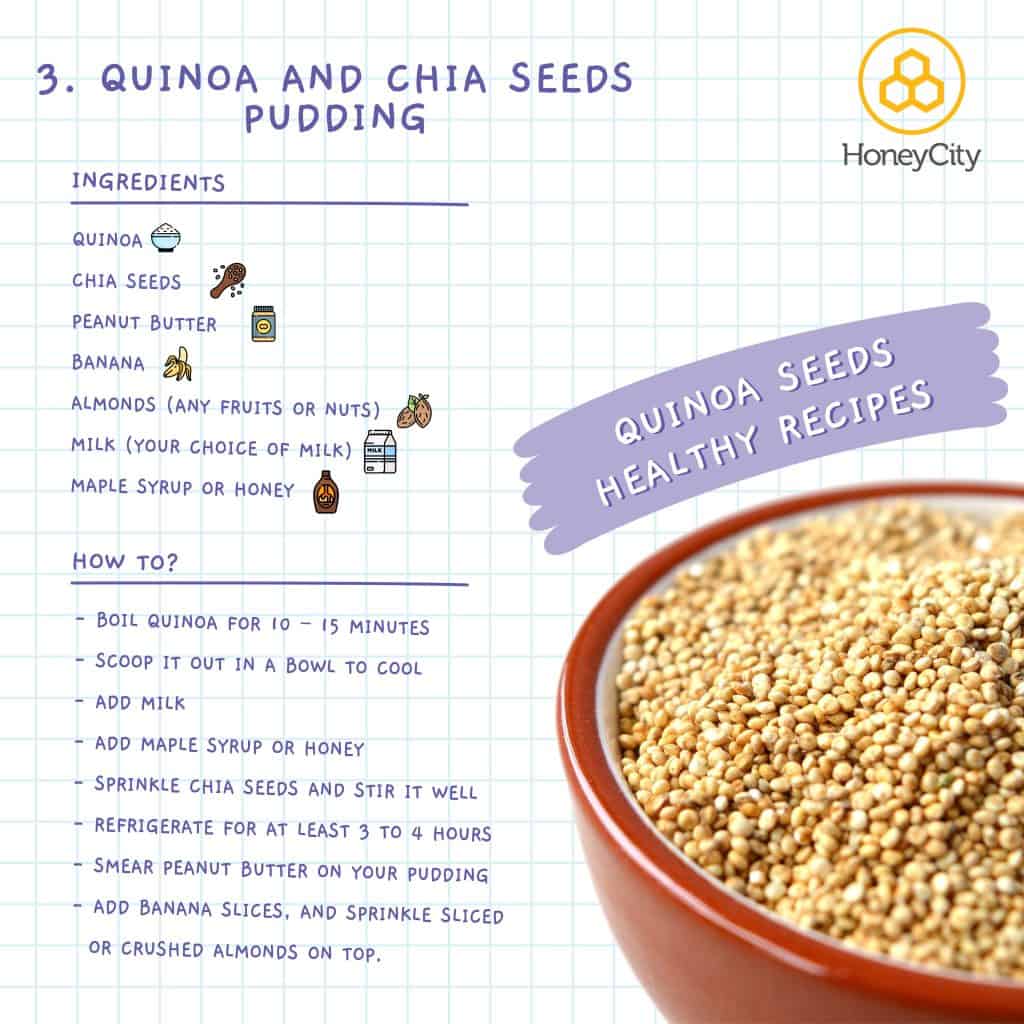 Purchase Now!
Disclaimer:
Do not use the information on this website for diagnosing or treating any medical or health condition. If you have or suspect you have a medical problem, promptly contact your professional healthcare provider
Additional information
| | |
| --- | --- |
| Weight | N/A |
| Honey | Kare UMF 5+ 500g, Comvita UMF 5+ 500g, Leatherwood 500g, Organic 500g, Sidr 300g, Wild Raw Flower 500g |
| Seed | Black Chia Seed 500g, White Quinoa Seed 500g |
Q & A
There are no questions yet