Sale!
GREENMIX Prebiotics for Probiotics- Nature Veg N Fruit 10g sachets
$19.95 – $69.90 & Free Shipping
Regulates bowel movement
Promotes digestion with prebiotics
Gentle on your digestive tract
NO chemicals laxatives or medicines
Quick Response Customer Service
Replies within next working day on any issues you may have with your order.
Traceable Delivery
All orders are insured and shipped via a courier with tracking number to ensure that your orders are protected.
Secure Checkout
SSL Enabled Secure Checkout
Description
Feeling tired?
Bloated from eating too much unhealthily?
Feeling always sick of work?
Want more Probiotics in your gut?
Get Prebiotics (natural from fruits and vegetables) from RedCoral 红珊瑚 (新加坡制造)  for a healthier detoxed body!
This prebiotics made from fruits and vegetables helps you to get probiotics naturally in your digestive system.

Would you like to detox your body?
Just take this Greenmix and you can feel the effect ONLY AFTER 1 PACKET.
UNDERSTAND YOUR BODY & YOUR HEALTH!
Your Gastrointestinal tract is an organ system responsible for digestion, absorption of nutrients and expulsion of waste. As a vital system in your body, it affects other regions such as your immune system, and critical to your overall health.
INTRODUCING
GREEN MIX NATURAL VEG & FRUIT PREBIOTICS for probiotics
NATURAL FIBER GOODNESS
Take the first step towards taking care of your health in the long term before worrying about hospital stays and pill phobias. Our body only shows signs of digestive distress when we experience abdominal pains, diarrheas, constipation and other symptoms. GreenMix helps to rejuvenate and maintain your digestive health before your body suffers from these tell-tale signs.
Our easy-to-mix botanical drink specializes in helping to improve your digestive health and you will soon attest to an overall cleaner and more robust body. As we indulge in all the glorious foods every day, our digestive system is unable to smoothly break down our entire food intake. This Nature Veg & Fruit mix helps you achieve a healthier digestive system by supplementing your body with natural Fiber goodness.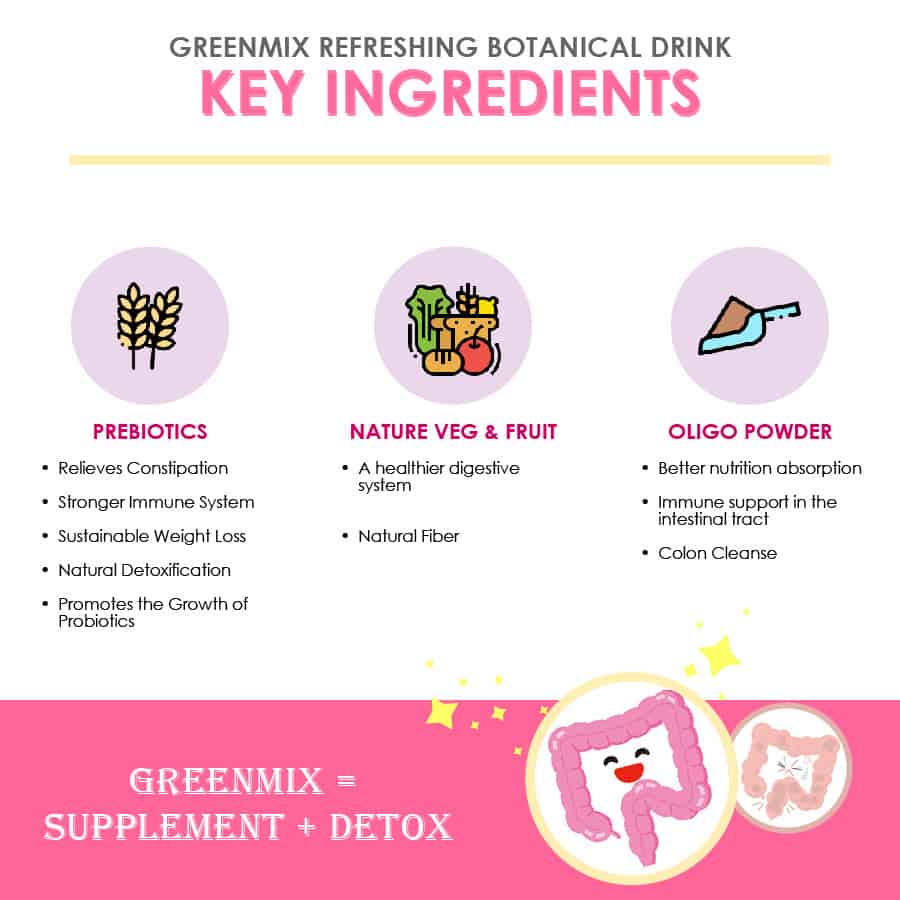 GreenMix Key Ingredients
Greenmix = Supplement + Detox
GreenMix is an easy to mix powdered drink that supplements your body with essential fibre needed to regulate bowel movement.

GreenMix Health Benefits

GreenMix Daily Consumption
AN ESSENTIAL FOR EVERYONE
Enriched with natural prebiotics (Oligo Powder) which stimulates growth and activity of probiotics and good bacteria in the digestive system. GreenMix cleanses your digestive tract by softening hard stool and waste.
Green Mix is suitable for children (above 13 years old), teenagers, adults and elderly.
A CLOSER LOOK AT GREENMIX'S INGREDIENTS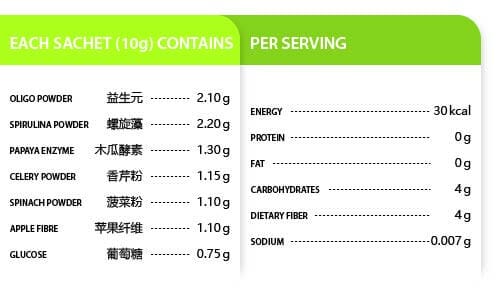 The concoction of ingredients is a breakthrough formula which uses natural ingredients with no known side effects:
PURCHASE NOW!
RedCoral 红珊瑚 (新加坡制造) Prebiotics Greenmix
Get your probiotics the natural way now!
Additional information
| | |
| --- | --- |
| Weight | 0.5 kg |
| Size | 1 x 10 Sachet, 1 x 30 Sachet |
Q & A
May I know the product of the country?
Thank you for your interest in our product!
The Greenmix Prebiotics is a Product of Singapore.
How to consume? Any time or before meal how many sachet per day ?
Hi, thanks for your interest in our product. You may consume it before or after meal, 1 sachet per day.