REDCORAL Honey Bee Apitherapy 120ml新加坡红珊瑚蜂疗
$120.00 – $200.00 & Free Shipping
RELIEF FOR
As an aid for the relief of  Rheumatic Pain, minor aches, tired and painful muscles, joints and bones, inflammation and swelling caused by bruises, Lumbago, and Muscular Aches
1 for $120
Get 2 and above $100/unit
1
orders in last 30 days.
Quick Response Customer Service
Replies within next working day on any issues you may have with your order.
Traceable Delivery
All orders are insured and shipped via a courier with tracking number to ensure that your orders are protected.
Secure Checkout
SSL Enabled Secure Checkout
Jeanne from Singapore
bought this item recently.
Description
Feeling Unwell? Joint or muscle pains? Soreness?
Rheumatic diseases affect your joints and muscles. Some, like osteoarthritis, is the result of wear and tear. Muscle pain is most often related to tension, overuse, or muscle injury from exercise or physically demanding work.
The pain tends to involve specific muscles and starts during or just after the activity. Muscle pain also can be a sign of conditions affecting your whole body.
Red Coral Honeybee apitherapy has been used by many customers of hondrocream who turns to red coral honey bee for stubborn joint and muscle pains. Red Coral and hondrocream are top sellers in Singapore.
In case of such situations happening, we should be prepared for them.
Introducing
RED CORAL HONEY BEE APITHERAPY
(
红
珊瑚 –
蜂
疗)
RELIEVE MUSCLE & JOINT PAIN 120ml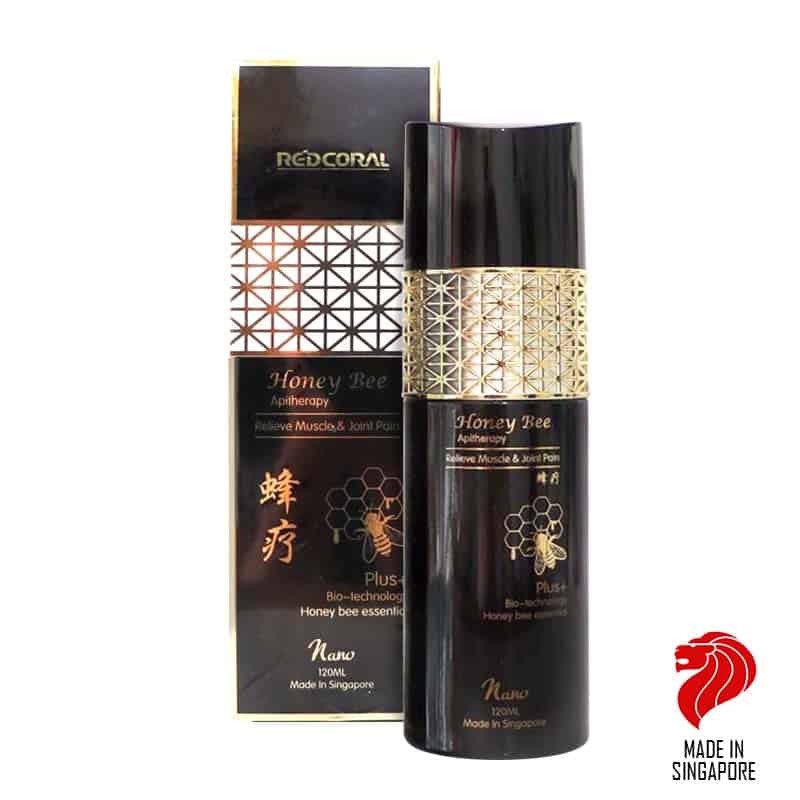 PLUS + Bio-technology Honey Bee Essential
RELIEF FOR
As an aid for the relief of  Rheumatic Pain, minor aches, tired and painful muscles, joints and bones, inflammation and swelling caused by bruises, Lumbago, and Muscular Aches
适用于: 各种风湿肿痛, 持续性的肌肉肿痛, 肩周炎, 颈肩腰受损等症状
用法: 只能外敷。 取适用的量按摩于皮肤处。 每日2-3次。 需要时使用
HOW TO USE
For external use only. Take a sufficient amount and gently massage over the skin.
Apply 2 – 3 times a day or apply daily as needed.
STORAGE
Always Keep the cap sealed when not in use. Store Product in a cool dry place.
Keep away from direct sunlight.
Please keep out of reach of children
ATTENTION
For external use only
Non-edible
Not suitable for children under 3 years old and pregnant women
INGREDIENTS FOR REDCORAL HONEY BEE APITHERAPY
Bee venom, Camphor, Methyl salicylate, Ginger extract, Safflower extract, Propylene glycol, Deionized water
MADE IN SINGAPORE
新加坡制造 – 红珊瑚
蜂
疗
正新加坡红珊瑚蜂疗主要帮助舒缓以下各症: 四肢寒冷,筋骨散骨,抽筋麻痹,跌伤青胀,腰酸背痛,风湿肿痛,手脚酸软,肌肉肿痛,关节疼痛,骨刺及椎间盘突出,肩周炎,颈肩腰受损等症。
适用于: 各种风湿肿痛, 持续性的肌肉肿痛, 肩周炎, 颈肩腰受损等症状
用法: 只能外敷。 取适用的量按摩于皮肤处。 每日2-3次。 需要时使用
Purchase Now!
RedCoral 红珊瑚 has also released the latest RedCoral 红珊瑚 (新加坡制造) Greenmix Prebiotics for probiotics for a healthier body!
You can read a blog article on how RedCoral 红珊瑚 prebiotics help your body to generate naturally more probiotics for great health!
Disclaimer:
The content of this website is provided for general informational purposes only and is not intended as, nor should it be considered a substitute for, professional medical advice. Do not use the information on this website for diagnosing or treating any medical or health condition. If you have or suspect you have a medical problem, promptly contact your professional healthcare provider
Additional information
| | |
| --- | --- |
| Weight | 0.75 kg |
| Product | REDCORAL HoneyBee Apitherapy |
| Choose | 1 unit, 2 units (SAVE $40) |