Pure Origins Organic Wild Raw Honey 500g
100% Pure Australian
Natural
Raw
Single Region
Cold Extracted to retain all nutritional properties
Description
Additional information
Reviews (0)
Questions & Answers (2)
Description
The Pure Origins brand is only found on high quality, premium and pure Australian food and beverage products. We are strong believers that you are what you eat. To live a happy and healthy life starts with quality food…because it is "In Nature We Trust"
Pure Origins Premium Honey Range is 100% Pure Australian. Sourced from Australia's most pristine regions, Single Region, Raw & Cold Extracted. It is this attention to detail that ensures our honey retains its natural nutritional properties
Introducing
Pure Origins Organic Wild Raw Honey 500g
Pure Origins Wild Raw Honey comes from the blossoms of Australian eucalypt trees, clover and ground flora. Our honey is strictly sourced from Australia's most pristine wilderness with some of the world's cleanest air and water.
Our Wild Raw Honey has a sweet, mild flavour suitable for all honey uses.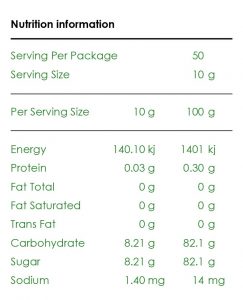 Why Pure Origins?
100% Pure Australian, Natural, Raw, Single Region & Cold Extracted to retain all nutritional properties.
100% Pure Australian – Natural – Raw – Single Region – Cold Extracted
RAW – come straight from the beehives and is not excessively heated when extracted or packed, it is COLD EXTRACTED. It is actually packed at temperatures lower than the beehive itself. This means that although it takes longer to pour, it retains all of its crucial enzymes, anti-bacterial properties and nutritional value. Where others heat their honey to ensure they get an optimum level of fast pouring to save on packaging costs.
SINGLE ORIGIN – what we receive from the beekeeper we bottle, we don't blend. It's 100% Pure Australian honey. Not mixed honey from various regions.
We take pride in holding to these principles so our honey you receive is of the highest quality and retaining all nutritional properties.
PURCHASE NOW!
Questions and answers of the customers
A

Hi, thanks for your interest in our product. Yes all of our honey products are authentic, we import it directly from New Zealand and yes we are the authorised agent of this honey.

A

Hi, thank you for your interest in our product. They are made in Australia but imported from New Zealand :)