Manuka Honey UMF®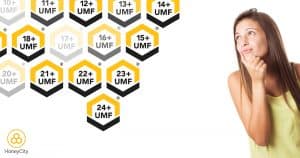 UMF Manuka Honey
What is UMF Manuka Honey?
UMF stands for "Unique Manuka Factor", a term trademarked by New Zealand's government supported UMF Honey Association. It refers to the unique natural markers and signature compounds in manuka honey, that determines that the manuka honey is real and authentic. This includes the key markers of Methylglyoxal, Leptosperin, Hydroxymethylfurfural, and DHA.
UMF labeling means it has been independently lab-tested by New Zealand's board and has been certified as real and authentic manuka honey. This is to combat the fake manuka honey fraud scam that cheats consumers worldwide.
The number explain the UMF level, of methylglyoxal and antibacterial activity, in the manuka honey. The higher the more valuable and rare. The most commonly recommended for daily health consumption of manuka honey is UMF 10+.
Brands which carry only the number and without UMF, or with other acronym such as MGO, AMF, etc etc are not tested nor endorsed by the New Zealand UMF board. There are a large number of brands that are using fake manuka level to cheat consumers.
Manuka Honey with less than UMF 10 has a low level of activity and may not be effective.  The ideal potency is between UMF 10+ or UMF 15+.
What is manuka honey?
Manuka honey is a monofloral honey that bee produces from the manuka bush, a native plant found only in New Zealand and a small part of Australia. Only these manuka bush produces honey with such high level of signature compounds desired, due to the unique climate, soil and this unique plant in New Zealand.
Manuka honey contains a high level of methylglyoxal (MG), an antibacterial component. Manuka flowers' nectars have a high level of dihydroxyacetone, that is converted to methylglyoxal, hence the high level of MG in manuka honey.
Some summary of manuka honey benefits
Improved general health immunity.
Helps reduce and alleviate allergies
Calms and alleviate Low Stomach Acid, Acid Reflux, SIBO
Aids in healing sore throat, coughing and cold
Face masks to improve facial skin, treat acne, eczema
Reduce tooth decay and gingivitis, bad breath
Fights Staph Infections (MRSA)
Medical grade manuka honey heals burns, Wound, and Ulcers
Helps in IBS and IBD Treatment
Ease in deep sleep and resting
General Beauty Treatment and Health Booster
BeeNZ UMF Premium Raw Manuka Honey 5+

BeeNZ Manuka Honey UMF® graded honey contains an array of unique Manuka compounds (including DHA, MG and Leptosperin), validated by an independant laboratoy and verified by UMFHA. The UMF® grading system appraises natural markers found in Manuka Honey and assures purity and quality.