Why Is Comvita Manuka Honey Number 1 in New Zealand and the Best Worldwide?
UPDATE as of May 2020:
Comvita's authorised dealers will have a regular Certificate of Analysis (COA) for the manuka honey imported into their countries.
Stay with us till the end to see the latest COA for Comvita manuka honey imported for Singapore and Asia.
Comvita manuka honey (康维他麦卢卡蜂蜜) is considered the gold standard.
It's regarded as the most excellent, consistent, and reputed source of manuka honey from New Zealand.
If you're unsure about what manuka honey is, the short answer is that it's a type of mono-floral honey found exclusively in New Zealand and some parts of Australia. Click here to discover why people eat manuka honey daily to promote a healthy lifestyle.
Comvita is known as 康维他 – 康维他麦卢卡蜂蜜是华人最信赖的麦卢卡蜂蜜品牌。
Is Comvita the Best Manuka Honey Brand in the World?
Today, there are various brands of manuka honey that you can find in stores or online.
The question is: which one is the best?
There are many established brands such as Taku, Kare, Woodlands Organic, Manuka Health, and more. However, most, if not all, health advocates will agree that Comvita is regarded as the most consistent and high-quality brand of manuka honey in the world.
Don't believe me? Let's take a look at the reasons why Comvita manuka honey is the best globally.
What Is Comvita? 康维他麦卢卡蜂蜜
Comvita was founded in 1974 and has spent over four decades perfecting its beekeeping craft.
Clearly, their hard work paid off as Comvita is considered the global manuka honey leader. They have over 40,000 hives in New Zealand.
Comvita is the only manuka honey company that is publicly listed – it's traded publicly on the London Stock Exchange (LSE).
It has grown over the years to be more than a honey company with manuka candies, manuka derma cream, toothpaste, and plenty of other products.
It has even expanded to higher-end health products such as olive leaf extracts, and alternative health supplements to Sambucol.
Why Is Comvita Manuka Honey So Expensive?
Comvita manuka honey is so pricey because of the tedious process to ensure authentic manuka honey that is lab-tested and certified:
Lots of fieldwork to provide the best for the bees
Filtering to reject manuka honey that fails UMF 20, 15, 10 or 5 grading standards
Further rejection of honey that fails standards for texture, viscosity, taste and more
More lab tests to ensure authenticity and certification
Certification by the exclusive UMF Board to fight fraud and provide authenticity for consumers
Their beekeepers don't just harvest any honey they can find. Their development team has to undergo research fieldwork for selected beehives.
Only then can they tend, harvest, and test the honey for purity and sufficient high UMF for their bottling plants.
They tend to reject honey that has insufficient methylglyoxal levels. Even honey that is sufficient for their UMF 20, 15, 10, 5 gradings may be rejected if the texture, viscosity and other aspects fail to meet standards.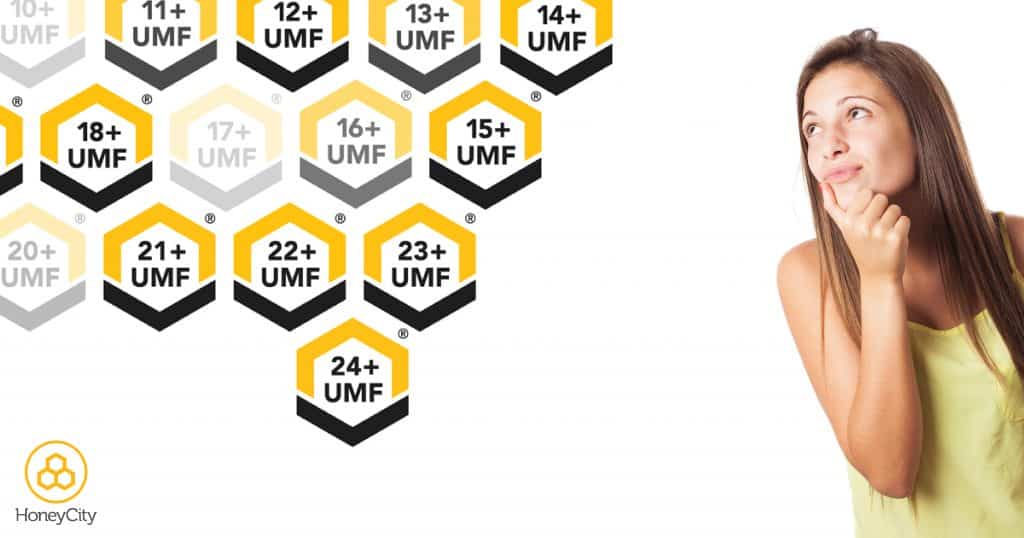 You can even trace each honey to its source because Comvita has a system of tracking each batch of honey from different marked beehives.
Comvita works closely with the beekeepers because they know beekeepers understand the health of the bees best. Isn't that amazing?
They produce the honey from New Zealand's rugged central North Island volcanic plateau to the bush-clad hills of Northland. They even have a team across the US, filled with nutritionists, health practitioners, and natural wellness experts!
The benefits of manuka honey are alive in every single drop of golden goodness. This is because Comvita has a strict and rigid system to ensure the manuka honey remains pristine from the hives to your bottle.
They make sure the unique methylglyoxal factor is as potent and alive in the jar as it is in the hive.
Comvita manuka honey can also be considered raw, this means they preserve the integrity of the honey, including the pollen, enzymes, propolis, and amino acids.
They don't undergo any significant transformation that many honey processors do to increase volume and shelf life just to squeeze more money from uninformed consumers.
Comvita Higher Quality Standards So You Get What You Paid For
Manuka honey has a limited crop production and is sensitive to weather conditions.
Therefore, it takes immense skill, planning, and resources, so it becomes more expensive to produce than other types of honey, but it's worth the money.
Unlike other brands, you are getting pure, unadulterated manuka honey that's certified by the UMF Board.
Why Is Comvita the Best? 康维他麦卢卡蜂蜜
There are many manuka honey brands that are available online or offline, and some claim that they're the best.
These manuka honey are labelled with terms like "Bio-Active", "Active", "MGO" or "UMF".
Most of you may wonder about the difference between those labels. Which one is the best, which one is real, and what is the standard?
You only want to give the best manuka honey to your family, and why Comvita?
Firstly, it has been argued that real manuka honey comes from New Zealand.
This is a true statement, and if yours doesn't, it's unlikely to be real manuka honey.
Just like how real champagne comes from France, manuka honey comes from the manuka flower, which only grows in New Zealand. It's not just the correct climate at that altitude – it's to do with the dark soil that allows manuka bush to prosper there.
The second factor is that it has to be mono-floral. This means it comes from the one and only, flower from the manuka bush. It shouldn't be a blend of multiple floral sources, not multi-floral nor "mostly" derived from the manuka flower.
The third factor is important too, the UMF because the price of manuka honey depends on their UMF level.
Make sure your manuka honey has UMF independent certification that guarantees the honey meets the MPI standards.
The standard states that it must have a minimum level of all three key compounds, and ensure that it's genuine mono-floral manuka honey with leptospira, DHA, and MGO (Methylglyoxal).
What Makes Comvita Manuka Honey Different?
Other than the fact that Comvita has their own beekeeping operation, they are also aware that their operations must be sustainable and positive for the Earth.
Manuka honey is considered a rare and natural resource, and the flowers are sensitive to climate change. Therefore, it's important that the honey is harvested sustainably and regeneratively.
Comvita is also the only brand that's certified gluten-free by the Gluten-Free Certification Organisation (GFCO) and their jars are also BPA-free.
They are also certified as genuine UMF from the UMF Honey Association (UMFHA) (check their license number #1019, UMF License for Comvita)
While Comvita manuka honey products are tested for and guaranteed, some brands only measured for MGO, while the rest don't even measure for any.
So, make sure you get your money's worth!
List of Comvita Products
Comvita offers manuka honey in varying UMF grades, each showing the level of MGO content and level of scarcity due to crop yields.
This indicates the highest level of beneficial compounds. The higher the number, the more targeted the usage for common wellness remedies:
UMF 20+: comes in a bottle of 250g (8.8 oz)

UMF 18+: comes in a bottle of 250g (8.8 oz)

UMF 15+: comes in a bottle of 250g (8.8 oz)

UMF 10+: comes in bottles of 250g (8.8 oz) or 500g (17.06 oz)

UMF 5+: comes in bottles of 250g (8.8 oz) or 500g (17.06 oz) or 1 kilo (35.02 oz)
Manuka honey with higher UMF levels tend to have a darker colour and distinctive taste, so don't worry about the differences between brands!
Manuka honey with a UMF higher than 10+ is medical-grade and therapeutic for the skin.
Note that the taste, colour, and texture may differ from batch to batch due to seasonality when the beekeepers harvest the honey from New Zealand hives.
As for the other products, we have:
Comvita Propolis Softgels: this is suitable if you are looking for nature's powerful defence system. It will support the immune system.

Comvita Vitality Royal Jelly Softgel: this is suitable to maintain your vitality. One capsule contains 500g of royal jelly.

Comvita Kids Honey: made precisely for kids, so it will taste good and creamy.

Comvita Manuka Honey & Blackcurrant Elixir: this is suitable for the chilly season like winter. This all in one formula contain 10+ UMF and blackcurrant to soothe a sore throat.

Comvita Children's Manuka Honey Elixir Winter Wellness: this is suitable for your children especially in the chilly season like winter. This all-in-one formula contains 10+ UMF with a tasty strawberry flavour to soothe a sore throat.

Made for children above one.

Comvita Propolis Toothpaste: with tea tree oil and xylitol, this toothpaste will be an effective way to protect gums and your teeth as it all work together to fight off plaque and decay.
What Are Comvita Kids Honey and Comvita Children's Manuka Honey Elixir?
First of all, note that children below the age of one should not eat honey of any kind.
toi honey may be deadly to children below one-year-old as their immune systems are not developed enough to handle honey.
Once your children are above one year old, they can enjoy the nutritious benefits of sweet honey!
Comvita Kids Yummy Honey is blended from three different honey to provide a delicious taste that appeals to kids and yet contains nutritious benefits.
Many high-quality manuka honey brands are not sweet, and may not be a favourite among picky kids. Comvita understood this and designed this honey to appeal to kids.
It helps boost kids' immune systems and can be used as a natural sweetener instead of sugar or artificial sweeteners.
This makes it a healthier alternative for growing children!
Besides Comvita Yummy Honey, they have also designed Winter Wellness Manuka Honey Elixir to boost children's immune systems like Sambucol.
Comvita Winter Wellness Manuka Honey Elixir as the Alternative to Sambucol
As a parent myself, I have been giving my babies Sambucol and I know that many parents do the same to strengthen their toddlers' immune systems.
Sambucol contains Vitamin C and Zinc and also have the antioxidant capability of free radicals. It's an extremely popular health supplement that supports probiotics formation.
Manuka honey also has antioxidant benefits too! It has antiviral, anti-inflammatory and anti-bacterial properties. If taken daily, manuka has an elixir effect to boost energy.
Instead of Sambucol, Comvita Winter Wellness Elixir may be better because:
Supports and boosts the immune system
No artificial sweeteners or preservatives
Contains manuka honey with a UMF 10 rating
All-natural ingredients
Great taste
Meant for kids above two years old
Comvita has designed the Winter Wellness Manuka Honey Elixir series for adults as well as for kids above 1-year-old as a supplement stronger than Sambucol.
You may be surprised that Comvita manuka honey is a better alternative if you are looking for something to boost your immune system.
Comvita Manuka Honey UMF Certificate of Analysis (COA)
For Comvita in Singapore and Asia, the latest certificate of analysis proves the authenticity of the active UMF level of the manuka honey we import. These are the latest certificates for May and June imports for 2020.
How Do I Make Sure That My Manuka Honey Is Authentic and Not Fake?
We have the lab analysis authenticity certificate for Comvita UMF 5+, 10+, 15+, 18+, 20+ as well as manuka honey blends.
The certificates are listed below, imported by Cantley LifeCare Pte Ltd, the parent company of HoneyCity.com.sg.
Certificates for Singapore Comvita UMF 20+ 18+ 15+ 10+ 5+ and Blends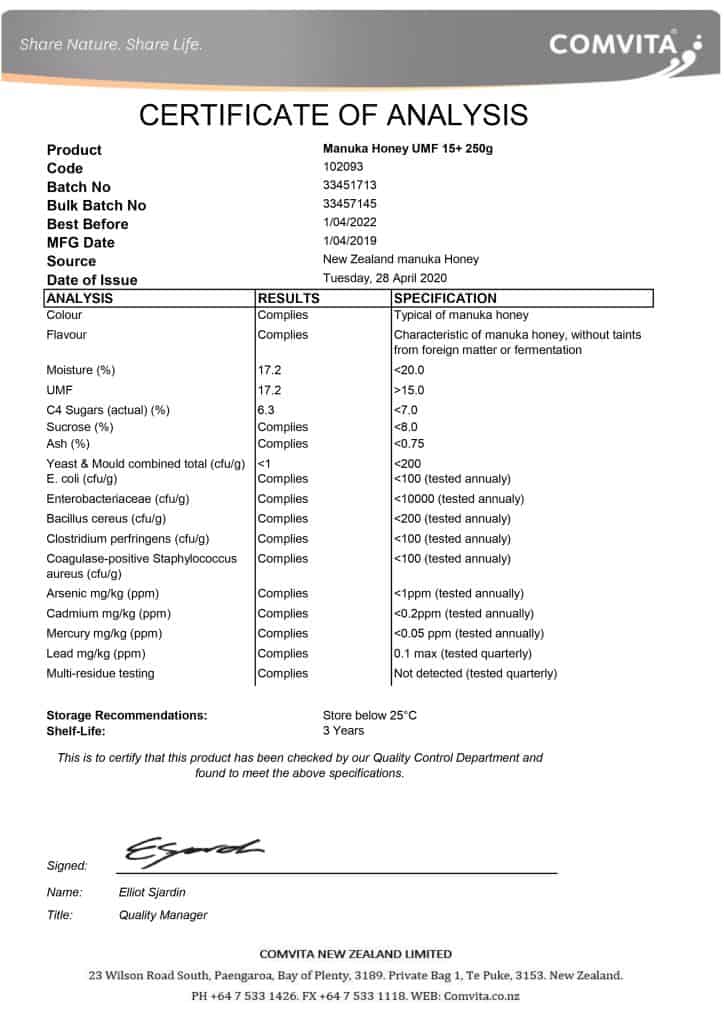 Where Can I Buy Comvita Manuka Honey Products?
Many speciality honey shops may not have Comvita 康维他麦卢卡蜂蜜 because they prefer to push their own house brands.
Having a giant brand like Comvita 康维他麦卢卡蜂蜜分店 tends to demolish their own in-house brand sales.
You can find them in premium department stores such as Metro, chemist warehouses or supermarkets as Cold Storage or NTUC Finest supermarket. Unfortunately, without discounts or sales, the prices are usually quite steep.
You can also get it from HoneyCity where we stock it under the Comvita Manuka Honey category.
Our prices are much better and you get free delivery once you hit the free shipping tier. We ship in Singapore as well as worldwide, such as Europe, North America, China, Hongkong and Taiwan.