UMF® Honey Licensees: Why Buy From Them?
Are you buying manuka honey that's sold by registered UMF licensees?
Not all honey is crafted equal – these brands that are sold by licensees are part of a collective community that holds itself to the highest production standards.
Scroll down to understand why it's recommended to buy from registered licensees!
Why Buy From UMF® Honey Association Licensees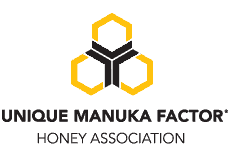 The UMF Honey Association (UMFHA) licenses 67 companies to use the UMF® trademark.
Only organisations with a license are allowed to use the UMF® trademark.
HoneyCity Distributes Manuka Honey From These Registered Licencees of UMF® Manuka Honey
What Does It Mean to Be Part of the UMFHA?
What's the big deal about being in the UMFHA?
The UMF ranking system is held in the highest regard for grading manuka honey. 
When you're buying a manuka honey product with the quality trademark UMF label,  it means that you're buying 100% genuine manuka honey. 
The registered licensees' honey that we distribute can be considered certified manuka honey brands. Let's take a look at them:
Comvita New Zealand 
Comvita has been a proud member of the UMFHA and registered licensee for almost two decades.
Established back in 1974, Comvita continues its founders' dream to "connect people to nature and good health". Inspired by bees, they made the golden liquid called honey their medicine to benefit people all around the world.
The company works hand-in-hand with their beekeepers and bees from the hive to the shelf. They practice a sustainable and natural way of sourcing and selling their products.
Kare
Kare sources its honey from the immaculate subtropical Northland region of New Zealand. 
This is the first part of the country where manuka flowers bloom. The team behind Kare recognised that being in New Zealand gave them the rare opportunity to share the goodness of nature with people elsewhere. 
Today, Kare brings the value of manuka honey to us, straight from the boutique facilities of their family farm. 
Vitabeez
From being marketed to the local Sunday market to setting up its own honey processing facility, Vitabeez has come a long way.
The family behind Vitabeez continues its belief in balancing the people and environment to create the highest quality manuka honey. All of their honey can be traced back to their origins for the assurance you need. It uses the recognition of being a UMFHA-registered licensee to spread its honey far and wide.
Apart from manuka honey, Vitabeez also sells dairy products like ice cream, fruits, and personal care products.
BeeNZ
Another UMFHA-registered licensee, BeeNZ is built on time-honoured family values and heritage. It makes it its mission to produce and deliver honey with sustainability and respect in mind.
Throughout the manuka honey's entire journey from hive to jar, it's handled with utmost care and love.
Its purity promise means that you're getting pure honey from the untouched flowers of New Zealand's honey forests directly from the bees.
Manuka Health
Manuka Health's purpose is in sparking a reconnection between people and nature.
It's been producing its famed manuka honey for more than a decade, delivering its trusted products to people in more than 45 countries globally. 
A collective team of 1.5 billion bees and 200 humans, Manuka Health continues to inspire people and helping them to achieve the best versions of themselves.
HoneyCity imports only high-quality UMF® manuka honey directly from New Zealand farms. Buy certified honey from registered licensees when you shop our range of manuka honey products!