Manuka Honey UMF: What Strength Is for Me?
Some of us tend to ignore the UMF label on our manuka honey and assume that the more expensive it costs, the better.
You're not entirely wrong, but let's take it a notch up and help you understand more about choosing the ideal manuka honey UMF for yourself.
Stick around till the end to find out!
How Do I Choose the Right Manuka Honey UMF?
When you're buying manuka honey, the first thing to do is to look at the UMF label on the tub. Most healthy individuals will find that manuka honey UMF 10+ is ideal and effective in boosting their immunity.
Manuka honey UMF that's less than 10 have a low level of activity and may not be effective for some medical conditions.
While you can find UMF that extends as high as 30+, the ideal potency for good health maintenance is between UMF 10 and 18.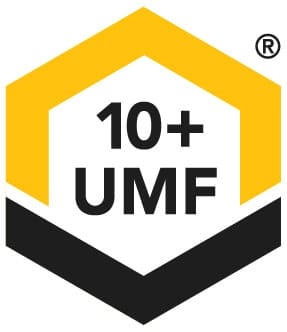 Use this information as a guide:
Manuka Honey UMF Level
Uses
UMF 5+
To test the textures, tastes, and suitability. You can eat daily as it's very affordable.
UMF 10+
To boost the immunity of healthy individuals. Take daily for maintenance of good health. Most people buy UMF 10+ as it's most suitable for normal health conditions.
UMF 15+
For those who may be weak and fall sick easily. If you have bad health problems such as gastric, this is more potent and suitable for you.
UMF 20+
For those with serious gastric problems or health issues. Due to tight production difficulties, this UMF 20+ graded honey is extremely expensive and usually out of stock.

If you need this, please email us (info@honeycity.com.sg) directly to request pre-orders. Some people have experienced sensitivity to manuka honey that's UMF 20 and above, so take heed.
UMF Levels and Their Uses
What Is UMF?
The UMF grading system is a global standard and endorsed by the New Zealand government for proper recognition of real manuka honey and health benefits. Essentially, the higher the rating, the more antibacterial activity the honey has.
It provides a lab-tested, scientific way of measuring the amount of methylglyoxal level in honey, which forms the health benefits of consuming it.
A level of at least ≥263 mg/kg of methylglyoxal would be great for health maintenance. That would be manuka honey UMF 10+ and above.
Buying any manuka honey endorsed by the UMF label means you're getting the real stuff – real honey that comes from the manuka bush. You should eat manuka honey of at least UMF 10+ for good health.
| | |
| --- | --- |
| Methylglyoxal Level (MGO Level) | UMF® Grade |
| ≥83 mg/kg | 5+ |
| ≥263 mg/kg | 10+ |
| ≥514 mg/kg | 15+ |
| ≥573 mg/kg | 16+ |
| ≥696 mg/kg | 18+ |
| ≥829 mg/kg | 20+ |
MGO Levels in Each UMF Grade
Other Types of Common Honey Ranking Standards
While UMF is the official standard of ranking the strength of manuka honey, there are also other known standards that you may have come across.
They are MGO, MG, and NPA. These standards were created by other firms that wanted to offer customers a type of reliable validity.
UMF vs MGO
Of the rankings mentioned above, MGO is the next most recognised ranking after UMF. MGO and UMF are essentially the same, except that the ranking system uses different terms.
Here's how the two correlate:
| | |
| --- | --- |
| MGO | UMF |
| MGO 83+ | UMF 5+ has at least 83mg/kg of MGO |
| MGO 263+ | UMF 10+ has at least 263mg/kg of MGO |
| MGO 514+ | UMF 15+ has at least 514mg/kg of MGO |
| MGO 696+ | UMF 18+ has at least 696mg/kg of MGO |
| MGO 829+ | UMF 20+ has at least 829mg/kg of MGO |
Table That Shows Correlation Between UMF and MGO
Which Manuka Honey MGO Strength Is the Best?
You know that a manuka honey UMF of 10 to 18 is ideal for the gold standard of ranking manuka honey, but what about MGO?
Should you buy honey that's labelled as MGO, choose the MGO strength that's at least 263+. The basis for this is simple – since a UMF of 10+ means that it's medical-grade and fit for improving your immunity, one look at the table above shows that the MGO level that corresponds to it is 263+.
HoneyCity has been selling real manuka honey since 2014 after we learnt that 90% of the manuka honey sold worldwide are fakes and abuse the sugar solution to lie to customers.
We visit New Zealand farms and bottling facilities to ensure that real UMF manuka honey is bottled for our clients. Buy your manuka honey from HoneyCity, an authentic manuka honey seller.