Pei Pa Koa: The Legendary 400-Year-Old Herbal Remedy
As Asians, many of us have grown up with Nin Jiom Pei Pa Koa.
Our parents have told us to take this quick remedy when we're down with the flu or cough, and it's the quintessential herbal remedy that can be found in most households.
It's the newest craze to sweep New York. Bottles of this herbal remedy are flying off the shelves. This coincides with the yearly flu season where citizens come down with colds and coughs. One man who was down with a cough for 10 days felt better 15 minutes after consuming the remedy.
What is this remedy all about?
What Is Pei Pa Koa?
It's a natural herbal remedy with roots in China. It relieves sore throat, cough, hoarseness, and loss of voice.
The origin of this remedy dates back to the Qing Dynasty in 1880 and has remained popular ever since.
Where Is Pei Pa Koa From?
Today, Pei Pa Koa's headquarters are located in Hong Kong and Taoyuan, Taiwan.
It was reported to have an annual sales of HK$350 million in 2014.
What Is Pei Pa Koa Good For?
It has been said to treat a variety of ailments. They include:
Allergy
Cough
Inflammation
Bronchitis
Bacterial infections
Throat pain
Sore throat
Is Pei Pa Koa An Expectorant?
Yes, it's both a throat demulcent and expectorant. Expectorants refer to a chemical that helps to expel phlegm or mucus from the respiratory tract by adding moisture. A demulcent is an agent that forms a soothing film over a mucous membrane.
This relieves minor pain and inflammation of the membrane and helps to soothe throat pain. An expectorant increases secretions and hydration in the body which then lubricates the irritated respiratory tract.
Ingredients in Pei Pa Koa
Firstly, it contains no alcohol, preservatives, nor artificial flavours. It doesn't contain any colouring despite its dark colour either.
Ingredients in this remedy include peppermint, ginger root, loquat leaf, and other beneficial herbs. The main and most important ingredient is the loquat leaf. This loquat leaf can be found in China and Japan.
The loquat leaf is essential due to its healing properties. It's also rich in calcium, iron, potassium, and Vitamin A and C. In Japan, these loquat leaves are boiled to make a tea that's rumoured to beautify skin and heal ailments like eczema and bronchitis.
Fun Facts
Pei Pa Koa has also been used in food and drinks. For instance, a bartender at L'Aignon (Singaporean bar) made a cocktail where he mixed dark rum with the syrup. A local chef also made a dessert of a steamed pear served with ice cream and the sweet syrup which many described to be a delight.
You could try making your own cocktail using the herbal syrup, also otherwise known as the Hulk Smash! The recipe calls for:
60ml Bourbon (or brandy, gin, or rum)
20ml Nin Jiom Pei Pa Koa
10ml water (warm)
½ lime (quartered)
3 sprigs of mint
1 dash of bitters (optional)
Another cocktail using El Dorado Rum:
60ml El Dorado 5
1 spoon of Nin Jiom Pei Pa Koa
2 1/4 of a lemon
60ml of warm water
The warm water in both recipes is used to dissolve the remedy which can then be mixed into the cocktail. After mixing all the ingredients, shake the cocktail with ice and strain over crushed ice.
How to Eat (Dosage)
The dosage differs across adults and children. For adults, they can consume three tablespoons of it daily. Ensure that the dosages are evenly distributed throughout the day. As for children, instead of tablespoons, reduce each dosage to teaspoons.
When Should I Eat Pei Pa Koa?
You can drink it at any time of the day as you desire. It's your preference!
What Does Pei Pa Koa Taste Like?
Generally, this syrup tastes sweet and has a cooling aftereffect. This makes it popular with children and adults alike since it's easy to eat.
Frequently Asked Questions
Got a question about this miraculous herbal remedy?
Check out our answers to some frequently asked questions below!
Does Pei Pa Koa Need to Be Stored in the Fridge After Opening?
Its product quality will not be impacted if stored in a cool place. However, it is advised to keep it in the fridge and out of the heat to prevent the remedy from going bad. It is also recommended to be kept in the fridge as the remedy tastes better chilled, especially on a hot day.
How Long Can Pei Pa Koa Be Stored For?
If kept in cool conditions, it can be stored for up to 3 years, or you can just follow the date stipulated on the bottle.
Can You Overdose on Pei Pa Koa?
Eating this syrup excessively may lead to overdose and cause side effects. Avoid eating more than the recommended amount stated on the packaging.
Where to Find Pei Pa Koa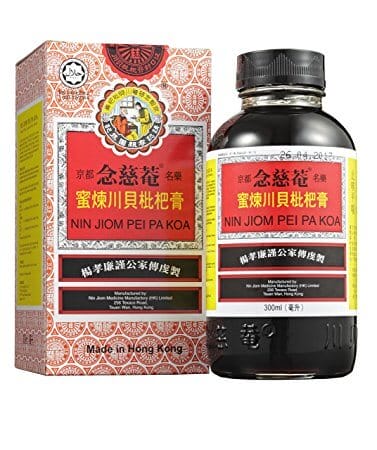 This popular cure can be found in many forms in Singapore. It's available in a sachet and bottled form.
The sachet form is particularly handy as it can be consumed on the go. You can also find it in candy form, where its beneficial properties are condensed into a sweet lozenge. It's perfect as a snack and can be used to substitute unhealthy candy.
Pei Pa Koa can be found in supermarkets and pharmacies around Singapore like:
Watsons
NTUC Fairprice
Guardian
Cold Storage
For other alternatives to soothe a cough or sore throat, check out HoneyCity's popular range of manuka honey from New Zealand!